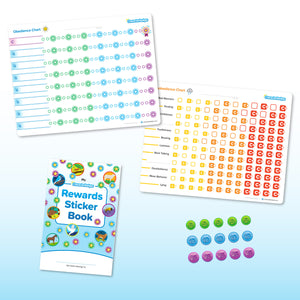 The Additional Child Set contains everything you'll need for fun, flexible and effective character training if you need to add another child to the Character Badges system.

The Additional Child set builds on the materials found in the Character Badges Base Set by providing an additional child with their own Obedience Chart, Disobedience Chart, Rewards Sticker Book, and a set of 15 Character Coins.
INCLUDES
1 – Dry-erase Obedience Chart

1 – Dry-erase Disobedience Chart

1 – Rewards Sticker Book with over 700 stickers

1 – Set of 15 metal Character Coins

1 – Character Coin Bank
For ages 5-13
WARNING: Small parts. Not for children under 3 yrs.
Intentional discipline!
We have been using character badges for a year now with three kids (9, 8, and 5). It has helped Mommy not react by overreacting or giving ridiculous consequences that are then painful and difficult to act upon. Instead I calmly name the behavior, give the check, and give the consequence. Plus, we talk about and encourage the character traits we DO want them to grow up in. I just got home from an ice cream date with my middle little that she purchased with her character badge coins SHE earned! What an honor! Thank you for sharing this beautiful system!
Eager to get started!
Until now, we've had one child with the Character Badges program and another with the one for littles. Now we have both using Character Badges, and we're so excited for them to journey together with CB!