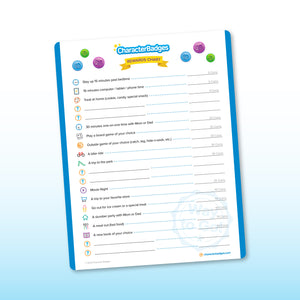 Rewarding for the whole family.
The Rewards Chart allows you to set rewards that not only motivate your child but also serve as a creative way for you to say "thank-you" for their good efforts in your home.
How It Works
Check marks on your child's Obedience Chart earns them Character Coins (sold separately). These coins can be turned in for the rewards listed on the Rewards Chart.
The 14 pre-listed rewards involve special activities or time with you such as a bike-ride, a home movie night, or even a slumber party! There are also 6 optional slots to fill in unique rewards that you know will motivate your child.
DETAILS
Specially designed for use with the Obedience Chart, the Rewards Sticker Book and Character Coins (all sold separately).

Can be used as a stand-alone rewards chart for use outside of Character Badges.

Chart is dry-erase and coated with heavy-duty laminate.

Dimensions: 8.5" x 11"