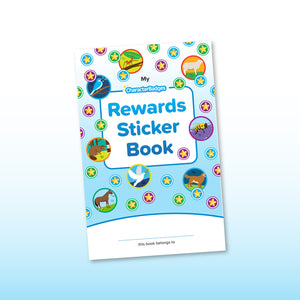 Building good habits has never been so fun.
The Rewards Sticker Book is colorful, challenging and loads of fun; and last but not least – it's full of stickers!
It's designed to be used with your child's Obedience Chart. When they check a star on their Obedience Chart they place star sticker in their book. Full rows of star stickers earns them Character Coins which can be turned in for all sorts of motivating rewards.
There are also extra special stickers to be placed at the bottom of each page whenever your child fills up the "Character Row" on their Obedience Chart. These are Character Badge stickers and they indicate that your child has excelled in a particular character category for the month.
Each sticker book contains enough pages and stickers to last one full year. But the best part? Your child will be working on building good habits and sound character and having a great time doing it.
NOTE: Obedience Chart and Character Coins sold separately.
DETAILS
22 pages total (12 pages for sticker placement and 10 pages of stickers).

Contains over 700 stickers! (Includes 24 Character Badge stickers).

Sticker book is designed to last for one full year.


Includes a "Certificate of Achievement" to be awarded to your child when they complete their book.

Sturdy, laminated cover
Warning: Small parts (stickers). Not for children under 3 yrs.
Love the fresh look!
This is the first rewards sticker book we've purchased since purchasing the full Character Badges set. My daughter was so excited to get a fresh, new book!