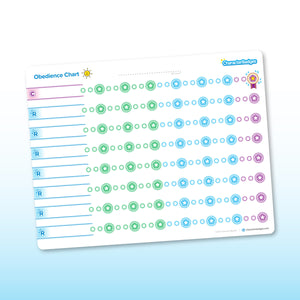 Fun, flexible and effective

The Obedience Chart is designed to help your child build habits of good character, behavior and discipline.
Using the Obedience Chart is simple. The top row is reserved for a "Character Focus" (the character quality you would like to focus on for the month) and the other 7 rows are reserved for responsibilities (such as "Brush your teeth", "Get up on time", or "Vacuum the living room"). The goal is for your child to earn as many "checks" on their chart as they can over the course of a month. As an example, if "Make your bed" was one of the tabs on their chart, they would receive a check every day they made their bed.
Each row has 21 spaces and when they check off stars within the row, they earn stickers to put in their Rewards Sticker Book! These stickers lead to Character Coins which can be turned in for all sorts of fun rewards.
It all adds up to a fun and effective way to motivate children to build good habits and sound character. : )
NOTE: Character Tabs, Rewards Sticker Book, and Character Coins sold separately.
DETAILS
Coated with heavy duty laminate for durability
Recommended for children ages 5–13.

Dry-erase

Dimensions: 11"x8.5"