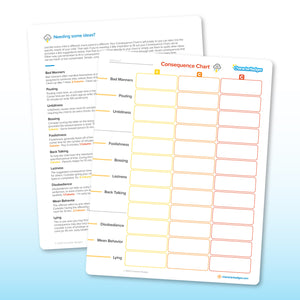 Take the guesswork out of correcting your child
The Consequence Chart helps you to set up predetermined consequences for misbehavior enabling you to be more thoughtful and consistent in dealing with disobedience.
Thinking through how you want to respond to misbehavior before it happens can help you be a more consistent parent. It can also help you yell A LOT less.
How It Works
Your child receives a consequence any time they get a check in a "consequence space" (a space with a "C" in it) on their Disobedience Chart (sold separately). Simply refer to your child's Consequence Chart to see what the consequence is.
Need some ideas to get the wheels turning? Included on the back of every Consequence Chart is a list of creative consequence ideas related to 10 categories of misbehavior such as pouting, laziness, back talking, and bossing.
DETAILS
Recommended for children ages 5-13.

Includes 1 chart (printed front and back).
Specially designed for use with the Disobedience Chart.

Coated with heavy-duty laminate and designed to be used with a dry-erase marker (sold separately).

Chart dimensions: 8.5" x 11"